Attorney
Location: San Rafael, California
Phone: 415-457-4367
Fax: 415-457-4368
Email: Email Me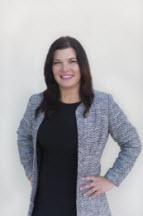 Family law attorney Christina Sherman understands that marital contracts (cohabitation, premarital and postnuptial agreements), divorce, child custody and all other family law matters can be very complicated, tenuous and emotionally charged. It is always her goal to alleviate as much stress and confusion as possible in guiding her clients through the legal process.
Christina graduated cum Laude from the University of Oregon in 1995 with a Bachelor of Science degree in Architecture. She returned to school a decade later to attain her JD after a successful career in an international civil engineering firm. Often asked the question, "Why didn't you go into construction defect litigation?" Christina's answer is always, "Because I am a problem-solver and a divorce or custody dispute is often the most important issue in someone's life. Resolving these matters is way more interesting and important than whether or not concrete was poured correctly."
Christina holds a B.S. in Architecture from the University of Oregon, a Doctor of Jurisprudence from Golden Gate University, and a Masters of Laws in Taxation from Golden Gate University. She received the Witkin Award for best paper in Remedies and Community Property, and the CALI Award for highest grade in Business Associations, Civil Procedure and Community Property. She was the recipient of the Monroe Seifer and Catherine Sherburne-Thompson scholarships.
Christina lives in West Marin with her son, where she enjoys the area's peaceful and beautiful surroundings. She enjoys hiking, reading and volunteering in her community.
Areas of Practice
Pre and postnuptial Agreements
Divorce
Child & Spousal Support
Child Custody/Visitation
Paternity Matters
Petition for Live Births
Motion To Enforce Or Set Aside A Marital Agreement
Post-judgment modification
Same Sex Partner Cohabitation And Dissolution
Education
Golden Gate University School of Law, San Francisco, California
Golden Gate University School of Law, San Francisco, California

LL.M., Master of Laws
Major: Taxation

University of Oregon
Attorney Christina Sherman is a Board Certified Family Law Specialist in California.
Learn More